MORE THAN
25 MILLION

PATIENTS TREATED GLOBALLY WITH OVER 500 MILLION UNITS.2*

Venofer® (iron sucrose) injection, USP is an established and effective treatment for chronic kidney disease (CKD) patients experiencing iron deficiency anemia (IDA).

About Venofer
Venofer provides IV iron therapy for the treatment of IDA in adult and pediatric patients 2 years and older with CKD. The dosing for iron replacement treatment in pediatric patients with peritoneal-dialysis-dependent CKD, hemodialysis-dependent CKD, or non-dialysis-dependent CKD has not been established.
*Patients are calculated based on an estimated annual cumulative dose. Data on file, American Regent, Inc.
DOSING & ADMINISTRATION
Find Venofer dosing and administration instructions for adult and pediatric patients with CKD.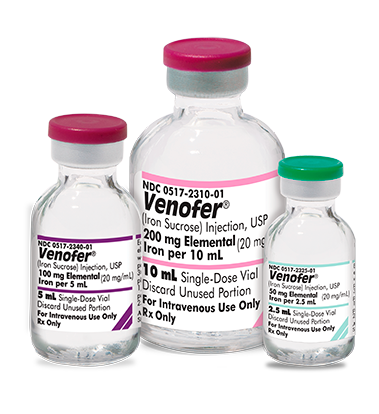 Venofer Patient Support Program
We've developed a program to provide Venofer free of charge to eligible patients who lack insurance coverage.
Providers (hospitals, physicians or infusion centers) may apply to the program on behalf of their patients.
DETAILS & FORMS
American Regent, Inc. reserves the right to modify or cancel the program immediately with respect to any patient, or in its entirely, at any time.
CODING & REIMBURSEMENT SUPPORT
Find Venofer coding and reimbursement information.
CODING & REIMBURSEMENT
Reimbursement Assistance
A service designed to help physicians and other providers understand payers' coverage and reimbursement policies for Venofer.
Monday through Friday, from 9 AM to 8 PM ET
REFERENCES
1. IQVIA [NSP Audit from MAT November 2015 to November 2020]. 2. Data on file. Iron Sucrose Periodic Safety Update Report, 2021. Shirley, NY: American Regent, Inc.